The COMPLETE Unofficial Movie Sequel Story
NEWS ROUNDUP Sept 22nd 2008:

Aliens vs. Predator Franchise Dead? Click on the links below for interviews on Bloody Disgusting and Shock till you drop:
Producer John Davis seems to think 20th Century Fox's Aliens vs. Predator is all washed up.
'AvP' Franchise Dead, But Predator Lives On?
NEWS ROUNDUP April 12th 2008:
Brothers Strause Blu-ray AVPR: Alien vs Predator: Requiem
Aliens vs Predator: Requiem - Inhabiting Predator Featurette
Three 2 minute behind the scenes clips promoting Aliens vs. Predator: Requiem on DVD
Amazon video of the Stause Brothers directing AVP2
Shock til you drop has posted this news:

ADI's Woodruff Muses On Future of AvP Universe

Source:Ryan Rotten

April 4, 2008

Amalgamated Dynamics, Inc.'s Tom Woodruff sat down with ShockTillYouDrop.com this afternoon to look back on his career and the work he has contributed to Fox's Alien and Predator franchises. Having played a big part in the Alien series - both in makeup and out of it - and now the AvP universe, where would he love to see the series go next?

"My hopes, as a creature designer and as a fan, would be ideally to continue on whatever storyline it is the Alien versus Predator takes us in because there's certainly a wide open book at this point," Woodruff says. "But in addition to that, I'd still like to explore the future world of Alien 5, what's the next step of that story? It's such an unresolved story and there are so many opportunities for characters and great storytelling. As well as Predator, both of those are open-ended stories and AvP has taken the center line combining those stories, but I think there's plenty of room for three very distinct story takes on those characters."

Keep an eye on Shock for a full report from Amalgamated Dynamics and our interview with Woodruff!

NEWS ROUNDUP March 26th 2008:

The AVP Requiem DVD is due out in a few weeks time, here is the official DVD site: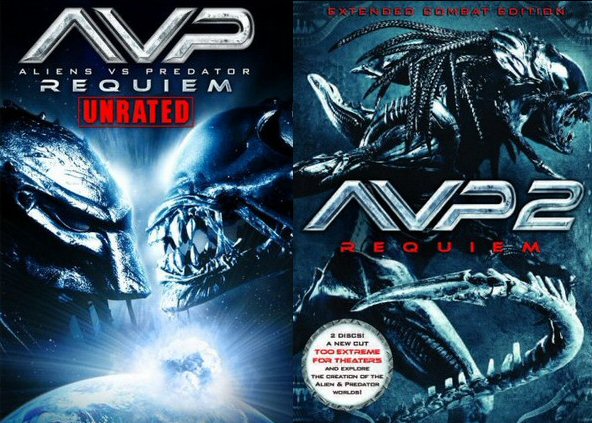 NEWS ROUNDUP August 25th 2007:

The teaser trailer is out at IGN Movies, they also have the first movie still: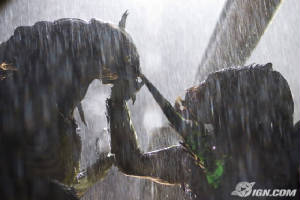 NEWS ROUNDUP July 26th 2007:

Some cool new stuff is finally creeping our way. A Hot Toys display at Comicon shows the Aliens Powerloader, Alien figure, Elder statue, Predator 2 Hunter figure, as well as a figure of the P2 Elder Predator: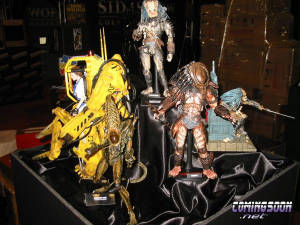 Visit Sideshow Collectibles for news of AVP and AVP2 life-size prop replicas, items announced are a Predator Mask, Plasma Cannon and Shuriken:
The teaser trailer for AVP2 should be online a week after Comicon, I will post a link here as soon as it is.
NEWS ROUNDUP June 5th 2007:

Alienexperience has announced the AVP2 tagline as "No peace on Earth", they also have a very interesting interview with the movie's assistant art director Andrew Li which describes the work on the Predator spaceship and lots more:
We should see the teaser trailer soon after it's preview at the San Diego Comicon. I would like to confirm that from all reports the region 1 and 2 definitive editions of the Alien and Predator dvds are wholely the same as the previous releases except for snazzy lenticular or slim metal boxes. The seven disc movie set is also now available and includes postcard images:
Alien/Predator: Ultimate Collectors Edition: 7dvd
Hollywood Collectibles Group have announced a Predator 1 bio helmet which comes with a creature bust mount. Stan Winston Studios has collaborated to create it, 1:1 scale limited to 1000 pieces and priced at $999.95
Hollywood Collectibles Predator 1 Bio
NEWS ROUNDUP April 29th 2007:

My brother saw a customised bike today he thought I'd like. It has a front-mounted Predator helmet, front mud-guard airbrushed as armour and petrol tank with dreadlocks flowing down it. Wish I'd seen it myself, enjoy!
NEWS ROUNDUP April 18th 2007:

Not much movie news to report, but those of you planning to buy the definitive editions may want to wait a little longer to see what "The Alien and Predator Ultimate Collector's Edition" has to offer, only ordering info at the moment. From what I can see the definitive editions mainly claim to offer the best sound and picture quality yet, while the only extras compared to the past 2-disc sets appear to be some TV spots and trailers.
The Ultimate Alien and Predator Collectors Edition £47.99 at Play.com
Upcoming US releases are a Predator 1+2 two-movie gift set and lenticular case versions of AVP, Predator and Alien movies.
NEWS ROUNDUP February 13th 2007:
Images of the Horrorclix Predator set are circulating as well as the Alien Queen. There is also a cloaking Predator figure available as a premium.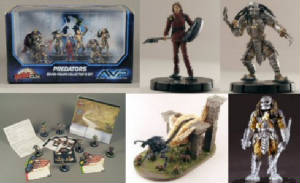 Hot Toy's first AVP statue is now available for preorder. The Elder Predator sitting proudly in his throne measures 11" tall by 8.5" wide and should be shipping around June 2007.

NEWS ROUNDUP January 23rd 2007:
I've just found listings for Predator and Alien definitive edition dvds on HMV.com, the rest of the series are also coming out as well as other Fox films like Daredevil and Planet of the Apes.
I'm sure most of us have now seen the first official AVP2 image, visit Alien Experience for up-to-date news and interviews: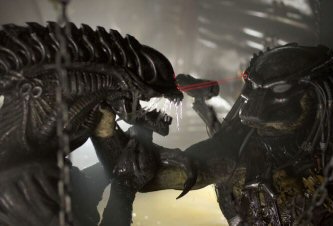 NEWS ROUNDUP January 5th 2007:
So far most of the production news about AVP2 has been cast and crew information and some photos around town. Here is the first featurette for the film, (similar to the first for AVP in which Paul Anderson talked us through) no great spoilers, it has interviews with the Brothers Strause and a rough idea of what to expect. See for yourself and let the anticipation begin:
Below are images of the new Wizkids HorrorClix Aliens set, a Predator pack is due soon and there is also a seperate decloaking Predator figure to look out for.
New model kits include Elder on skull base, Warrior on Queen head base, Female with Samurai armour, Female on dead Oger base and Male with Samurai armour holding sword, all are approx 1/5 scale.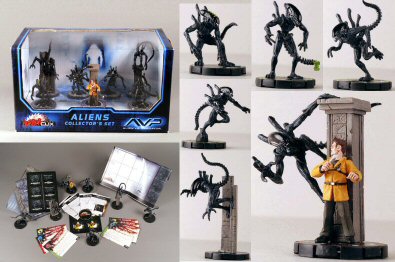 NEWS ROUNDUP September 5th 2006:
A deluxe Predator dvd set is due to be released next year featuring P1, P2 and AVP in 2 disc editions within a detailed sculpted head.
More on the new Stan Winston book out this autumn with over 300 pages of information and exclusive photos of his films including Edward Scissorhands, The Terminator, Predator 1 & 2, Aliens...
Click link below for official site:
Good news on AVP2 creature production:
Quote of Hicks on the Alien fan forums:
Predator Costumes to Get Complete Redesign!
Mon Aug 14, 2006
It would seem the word on the street in Hollywood has it that the Predator costumes for the upcoming Alien vs. Predator 2 will not only be brand-spanking new, not reused costumes from Anderson's original, but cast from brand-spanking new molds!
Better yet, these molds will be based on the Predators from the original two movies. This means the design of the Predators will be a complete redo, going back to the basics of the Predator design, and built from the ground up. It seems the production team is very concerned with the quality of the costumes going forward into the sequel, and it would also appear Fox is sparing no expense, or effort, to get them done right. This is welcome news to the ears of any Predator fan.
NEWS ROUNDUP August 2nd 2006:
AVP 2 movie begins shooting September 23rd
NEWS ROUNDUP July 5th 2006:
Some more models to look out for including two AVP warriors each holding Alien chestbursters and a Superman versus Predator diorama:

And here are two Alien and Predator related books due out later this year:
NEWS ROUNDUP June 7th 2006:
NEWS ROUNDUP May 6th 2006:
New AVP model kit, picture shows a Predator warrior holding an Alien Queen's head as a trophy.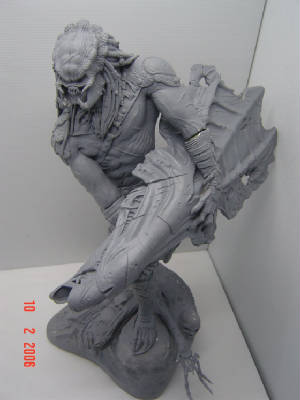 Aint it cool news revealed some possible AVP2 plot details from a leaked script, Fox has since ordered them to remove their review which was far from positive.
AVP2 movie planned for an August 10th 2007 release.